"Hey Ms. President! I'm depressed...so let's go shopping!"
Name: Miyu, Eun (은미유) or Ji-Woo, Eun (은지우) [KO]
VA: Kyeong-Tae, Lee
Age: 17
Birthday: May 2 (Taurus)
Blood Type: AB
Height: 5'8" (175cm)
Weight: 132.3 lbs (60kg)
(Despite his looks, he's really a guy!)
Special Feature: He has a haughty, royal attitude and looks like a queen.
Strength: Make-up, shopping, dressing up, acting as a villain
Weakness: Lying. Since he's honest and direct, he is unable to lie. Even if he does, it's obvious that he's lying.
Family: Uncle, aunt
People he likes: Beautiful people
People he hates: Those who can't take care of themselves
Personality: A narcissist who takes a lot of pride in his looks. His number one priority is to protect his beauty.
Keywords: Bossy, girly, honesty, secrets, hiding
Color: Pink
Preferred Places: Runway at the fashion show.
Lucky Item: Necklace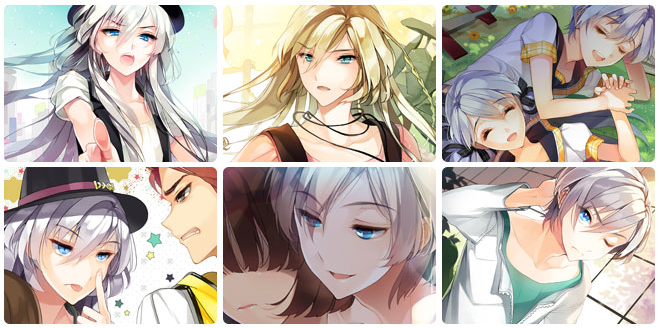 Your cousin says your company has four boys and no girls. She says that you need to look around to get a girl celebrity. You get out to the city and see a brave girl fighting for herself. It seems the girl was misunderstood for something. Another woman keeps screaming at the girl, accusing her of trying to take her boyfriend. But the girl argues that she didn't do anything, and that the man was only staring at her beauty; and that it's always a man's instinct to stare at a beauty. The woman becomes angry and pushes the girl hard. The girl falls on a pool of dirty water, but she gets up and continues.
"A jewel is a jewel, even when it's dirty. But glass cannot become a jewel, no matter what you do."
The woman gets even more upset and tries to slap the girl, but you get into the fight to stop her. The woman screams, 'What are you, a friend of this vixen?!'
You shout, 'What if I am!?'
The woman walks away with her boyfriend and you turn to the girl. You tell her that she needs a bath and offer your company since her clothing is all dirty. She accepts and tell you her name is Mi-Yoo. The two of you get into the building, and you start thinking about making her your celebrity. The moment you enter the bathroom to give her some clothes, you realize that Mi-Yoo is actually a boy who was just dressed up as a girl. He then agrees to become a celebrity. [KO]