"Big sis...you'll stay with me, right?"
"I'll try hard again today! (*′∀`)/"
Name: Ga-Eul, Kwon (권가을), Souta Midorigaoka (緑ケ丘楓太)
VA: Hyeon-Seo, Anh [KO] Souichiro Hoshi [JAP]
Age: 10
Birthday: April 30 (Taurus)
Height: 4'1" (124cm)
Weight: 46.3 lb (21kg)
Blood Type: AB
Special Feature: He loves bread; he's sometimes dressed up as a girl. [KO]
He loves bread and is easily tempted by food. Unlike other children, he doesn't know much about talking appealingly. Performing in front of crowds is his skill. [JAP]
Strength: Performing live (Concerts and live programs)
Weakness: Talk shows (lacks ability to talk about self)
Family: Only child
People he likes: Manager (you), Bakery manager Seung-Ho, Choi
People he hates: No one in particular
Personality: Pure spirit and trusts people. Even if he's tormented by people, he often doesn't know if it's tormenting or not, so the 'tormentor' quits doing so. He doesn't know the world, and doesn't know what to do for himself so he's often used a lot. [KO]
Pure and honest. He's very trusting. [JAP]
Behind Story: His father died, and his mother left him as an orphan. His company used to call him 'the one who brings misery'; he abandoned his way of being a child-actor and was alone walking aimlessly. On a rainy day, he meets you and a lovely star-project begins.
Keywords: Success, creation, blessing, promising future
Colour: Maple
Preferred Places: Busy places... Theme park
Lucky Item: Candy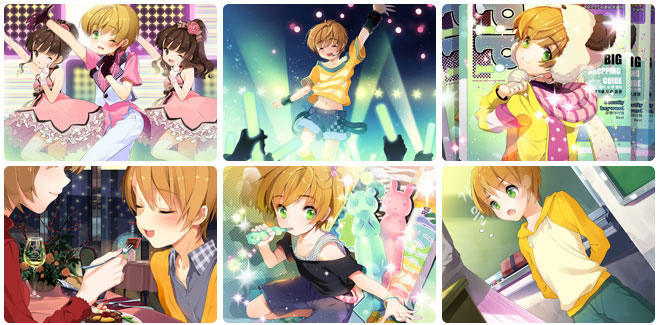 You hear someone humming away in the rain while you were talking with your cousin, who happens to be an actress. She recognizes who the hummer is and tells you about his bad luck and his past. With the company about to collapse, it wouldn't be a problem for you even if he brings bad luck. You get out in the rain with an umbrella and ask him if he'd like to go inside. You tell him that there's bread and milk, and that you'd like him to work for your company. He accepts and thanks you for the gratitude, and happily eating bread away. [KO]
There was a talented child actor from an orphanage. But his image was crushed in the eyes of talent agencies because of those whom he thought were his friends ruining him with the "Harbor" conspiracy. Following the memories he had of his lost mother, the protagonist met him while taking shelter from the rain. In the rain, there was a crouching boy. He was like an abandoned puppy... that was how she met Souta.
Even through the difficulties of being abandoned by his mother, Souta's heart was pure. So pure, in fact, that even when he was bullied, he didn't react to it as him being bullied. Become friend with him, and tell a story of his growth. He will slowly progress while waiting for adulthood. The abandoned puppy who you couldn't help but feel sorry for will grow charmingly. [JAP]